At 1pm yesterday I decided that if I stayed in my town any longer I would actually go insane. I needed to get away. I orginally considered Scafell Pike, but that's a four hour drive away, and I doubt I'd have time to drive there, climb the mountain and get down again before dark. I also considered Avebury, but I settled on the Uffington White Horse, Dragon Hill and Wayland's Smithy.
The chalk hills of the Wiltshire downs have a lot of neolithic artwork carved in their sides, but the White Horse at Uffington is by far my favourite. It's difficult to get a decent picture of it from the ground, so I'll cheat and use this one I robbed from The Internet: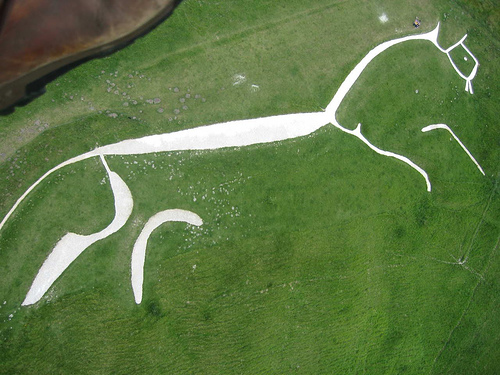 It's difficult to get a sense of scale from that photo, but the little blob near the top right of the image is a person.
To the rear of the horse itself is the site of Uffington Castle, now merely the raised earthworks where the fortress once stood. from a distance, on a nice day, it also looks like the default Windows XP desktop wallpaper:
There are some spectacular views of the surrounding countryside from this vantage point. I won't describe them as pictures speak louder than words, so just have a look:
The flat-topped hill you can see in the second image is Dragon Hill, supposedly the site where Saint George slew the dragon. The story goes that nothing was able to grow where the dragon's blood spilled to the ground, hence the white patch which has always been there:
So after exploting the White Horse, Uffington Castle and Dragon Hill, I decided to walk the mile or so down the Ridgeway to Wayland's Smithy. It's a neolithic long barrow constructed some three and a half thousand years ago. It's certainly an impressive sight, and thankfully was largely free of Draugr, although it did appear as if some sort of ritual had been performed at one end of it:
I've decided that the next time I have six days to spare I will hike The Ridgeway. There are so many ancient monuments close to it that I think it would be a great walk. I've added it to my list of trails to hike, right alongside the Wye Valley, Offa's Dyke and the Coastal Path. Goddess knows if I'll ever manage to do them.